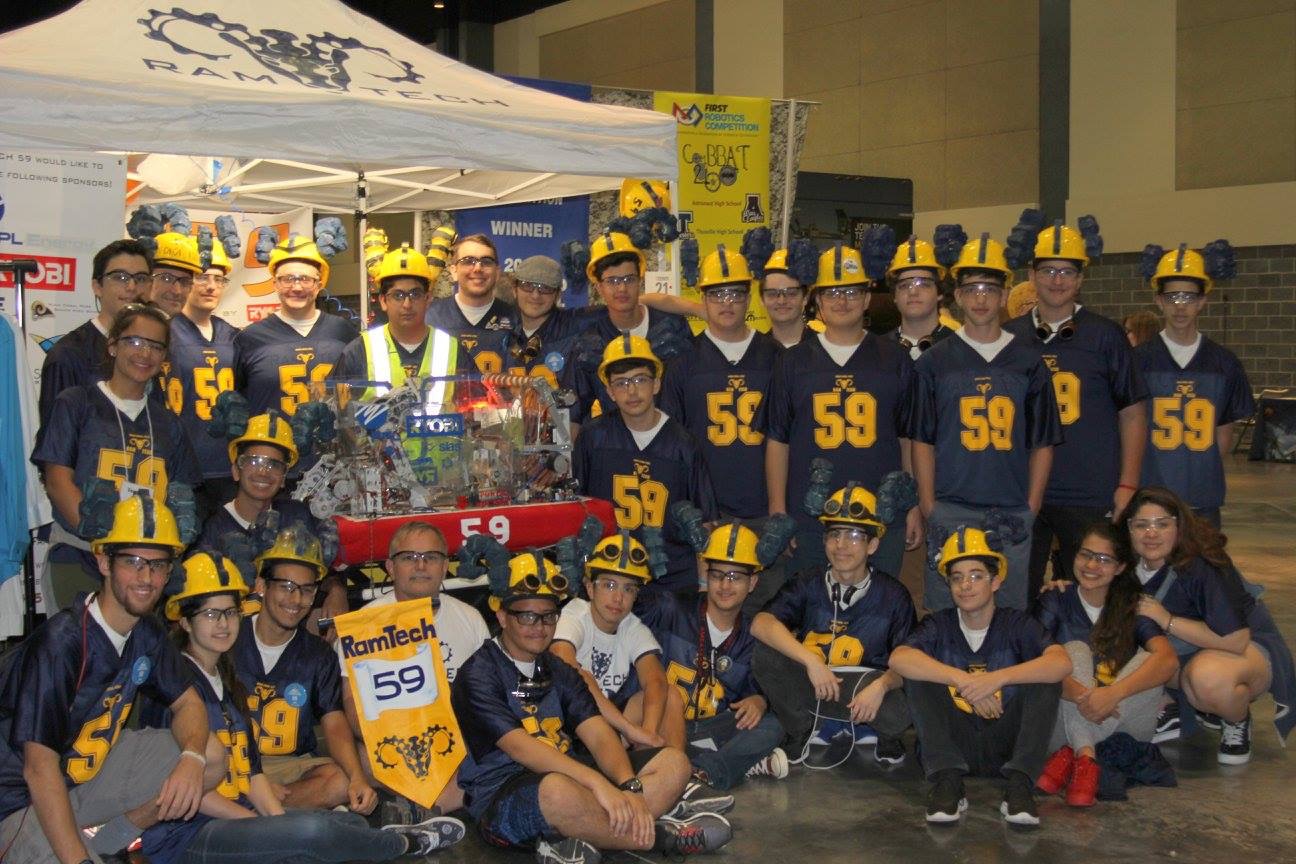 Help us spread the excitement!
Every year our goals get higher but our ambition increases. 
In order to achieve our goal, a lot of work and effort has to be put into building an efficient and well machined robot from the ground up, as well as shoring up the resources for travel expenses, robot parts, and any other needs the team might have.
Our team consists of approximately thirty students and six mentors.
Each school year, new students come and senior students graduate and attend college with the experience of a lifetime which only FIRST can provide.
Being a veteran team in the field gives us pride in what we do and that allows us to move forward towards bigger and better goals for the upcoming season.
RamTech 59 is seeking sponsors who believe, as we do, that supporting Robotics is an investment in the future.
Equipment Donation
Are you interested in donating equipment?
Donation $5000
Donation Impact:
Donation $2500
Donation Impact:
Donation $1000
Donation Impact:
Donation $500
Donation Impact:
Donation $250
Donation Impact:
Donation $100
Donation Impact:
Donation $50
Donation Impact:
Donation $35
Donation Impact:
How your sponsorship benefits our team and the community?
- RamTech after school Club, where students get involved in S.T.E.M oriented extracurricular activities
- Provides resources and inspires young women to pursue and gain confidence in S.T.E.M subjects.
- Helps us increase awareness of robotics related programs in South Florida.
- Helps us do demonstration at schools, as well as international and community conferences.
- Creates a pipeline for future inters and employee opportunities.
- Provides employee team building and training opportunities as well as increasing positive feelings for employers.
How we give back to our sponsors?
- Demo our robot at company celebrations and picnics.
- Represent sponsors at local shows.
- Partner with sponsors in their community service efforts.
- Promote sponsors on our robot, websites, promotional materials and social media